If you have a blog that reviews escape rooms, or at-home escape games, then Escape The Review would like to link through to your reviews.
Adding links yourself
The site is set up to allow you to add links to your reviews yourself. If you'd like to do that:
Create an account normally
Send me a message asking for the account to be linked to your blog (email to escapethereview@outlook.com or on Facebook is fine)
Also send me a logo image if there's one you'd like to use; alternatively I can use whatever logo / title you have on your blog. A landscape image (as in, a wide image not a square one or a tall one) generally displays best.
I'll then change your account from 'normal user' to 'blogger'. This means that when you view a game details page, the button that normally says 'I've played this game' will instead say 'Link your review'.
That gives you an altered version of the review form. In particular, there's an additional field labelled 'URL for your review', which sets the URL that the link goes to. And the 'review text' field becomes 'teaser text', which you can use to show a review summary or the first review paragraph, to encourage readers to click through.
The star rating also has a box labelled 'Text to display'. If you put something in this box it will be displayed instead of the star rating. Any star rating you set will still be used internally when calculating the game's overall score.
The 'Play Details' and 'What Stood Out' sections aren't displayed as part of the link, though any tags you set will still be used internally.
Here are examples of how the links look, with stars / other ratings / no ratings, and with and without teaser text: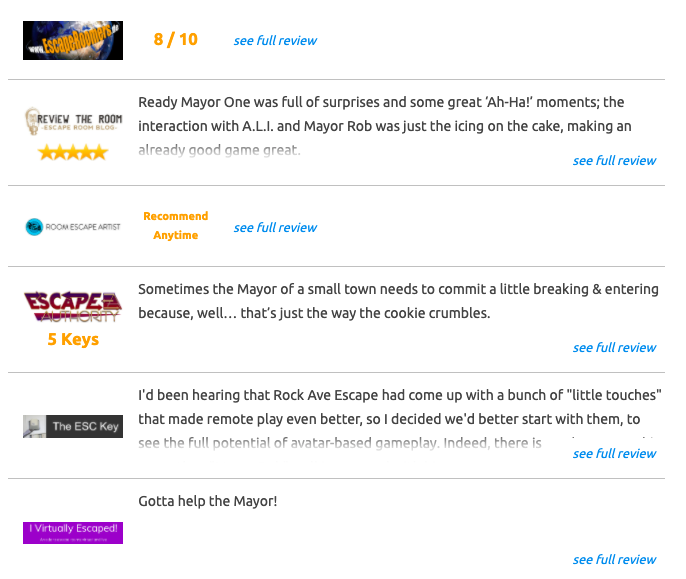 The order of the list is determined by how many links the site has for each blogger.
After you add the link, there may be a delay of up to an hour before you see the link appear on the game's detail page. (This is because of content caching, not because it's being held for moderation.)
You can always go back and edit a link after you've added it.
Games without a listing
The site currently has listings for more or less all U.K. escape games and all play-from-home escape games. Games in other countries are added on an ad-hoc basis. Where you've reviewed a game that doesn't already have a listing, you can still add a link to it.
To do that, use the 'Rate or review an escape room' button on the home page, and select 'Let me type the details in manually'. I'll then add in a listing for the game and your link will appear on the site normally. It may be a couple of weeks before I do so, though!
I normally don't add listings for games that have permanently closed.
Don't want to add links yourself?
If you prefer, you're also welcome to send me a spreadsheet of your reviews and I'll bulk upload the links that way. The spreadsheet should include at least:
The URL for your review
Rating & teaser text, if you wish to show those
Location, venue name and game name
It's useful to have a URL for the game and an indication of whether the game is still open, if you have that information.
Front page review links
Any time you add a link, it appears on the site's homepage, until it scrolls off the bottom of that display. Again, there may be a delay of up to an hour before it appears.
Reviews of games without a listing won't appear until I get round to adding a listing for the game – if you like, you're welcome to message me on FB or Twitter and ask for the game to be added before you add the link.
The front page will show up to three links to a single blog at a time; if you add a fourth, it will appear as normal but the oldest of the others will stop appearing on the front page.
Links that I bulk import from a spreadsheet aren't added to the front page, for similar reasons.
FAQ
I added a link but it hasn't appeared
If you added it less than an hour ago, it may simply have not shown up yet. If it was for a game that doesn't have a listing, it won't appear until I add that game's listing.
If it's showing on the game details page but not on the front page, and if you've added other links recently, it's probably the flood control mechanism.
If it's none of those, drop me a message and I'll check!
I've reviewed several games in a single article
That's fine, you can still add links to each of those games and simply set them all to point at the same URL.
My blog isn't in English
I'm still happy to link to your reviews – readers can always use auto-translation to get an idea of what you're saying about the game. I do encourage use of teaser text though, so that users can see that the review is in a different language before they click through.
I have a vlog not a blog
I'm still happy to link; again, it's useful if there's teaser text that indicates that it's a video review, so that people know what they're clicking through to.
I reviewed an escape room but my blog isn't about escape rooms
I'm happy to link to blogs if they've reviewed at least a couple dozen escape rooms, even if their main focus is something else (immersive theatre, horror experiences, etc.). If a blog has only published reviews of one or two escape rooms, then I normally don't link to it, since the reviews are likely to be aimed at a more general audience.