If you're coming to London to play escape games, this is where to go

instead

as well
In many parts of Europe, escape rooms are heavily gathered in the capital cities: that's where you go for both quantity and quality. That's not true in the U.K.
London has well over 70 games, including many very good ones. But if you're in the country for a few days and want to pack in as many first-rate escape rooms as you can, then you really should look further afield.
This is an overview of some of the other locations that should be on your radar. Jump to:
If you can only get to one location outside London, and you want to play more than one game there, you should probably be choosing between Brighton, Margate, Nottingham and Gravesend.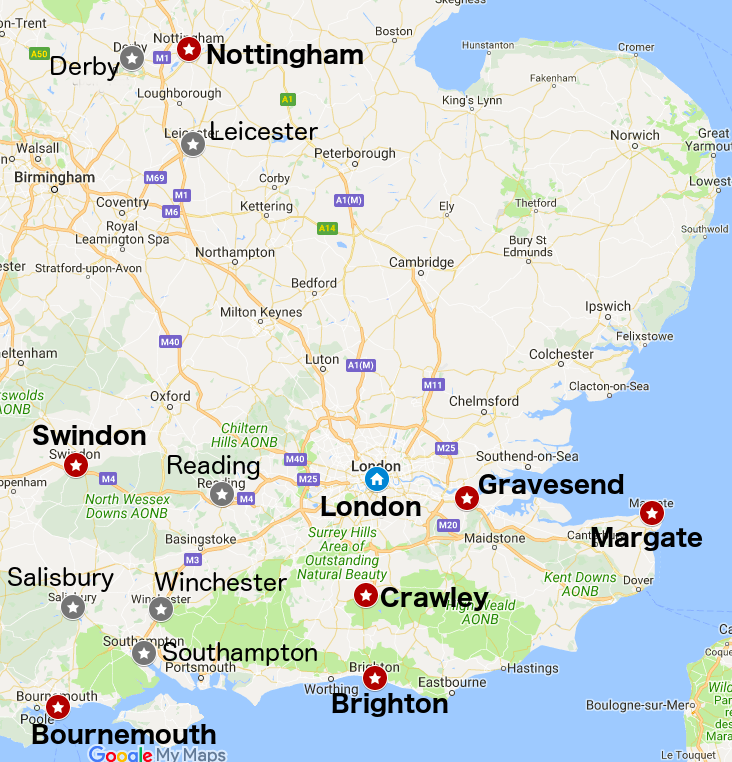 A few disclaimers and warnings:
There are many other very good games that I haven't mentioned here, because I'm focusing on destinations with a combination of quality and quantity, and which work well for visiting enthusiasts with limited time. For a more comprehensive list, see our main rankings page, the excellent UK region guides at The Logic Escapes Me, and the per-location directory at Exit Games.
Areas further from London, such as the northwestern hotbed of escape rooms around Liverpool-Manchester-Leeds, are woefully neglected, both because I'm assuming visitors are most often based in London and because the games in the southeast are the ones I'm most familiar with. Including the more northerly escaping hubs would instantly double the length of this list.
Note that car journey times are heavily dependent on traffic and on whether you start on the right side of London for where you're going – getting out of the city can be the longest part of the journey.
If heading to any seaside locations such as Brighton or Margate, beware travel congestion on weekends, especially in good weather and/or summertime.
And if you're going to be travelling a lot by train, you might find the BritRail rail pass useful (only available for purchase outside the UK).

Bournemouth
Distance from London: 2 hours by train, 2.5 hours by car.
Tourism: As a seaside town it has a beach and a variety of local attractions but I suspect most people reading this site will want to hit the escape rooms and move on. If you do have time to kill, there are some pleasant coastal walks in the area.
Escaping opportunities: Top of your list should be M.A.R.V.O. Induction by Marvo Mysteries. This steampunk game stands out as pure quality from well before you start the game itself. Bournemouth may be an effort to get to, but to paraphrase a certain US enthusiast who visited recently, if you have to get up at 5am to fit Marvo into your schedule, it's worth it. On the other hand, if you're short of time and can only plan one or two day trips, then Bournemouth is a lot of travelling for one game, however stand-out; so it's best visited as part of a longer trip that includes some of the other locations on this list.
See also The MacGuffin by The MacGuffin Project, for spectacular visuals and large-scale Victorian Gothic drama; I haven't tried their two more recent games.
There are a dozen other games on offer in the town if you have gaps in your schedule, but there are stronger alternatives elsewhere.
See full map and games list.

Brighton
Distance from London: 1 hour from London Victoria by train, ~2 hours by car.
Tourism: Brighton is worth visiting even if you're not playing escape games, a bustling tourist-friendly seaside town with a strong counter-culture feel. Head to the Laines for alleyways full of unusual shops and cafés, to the pier for tacky arcade amusements, or to the Pavilion for the wackiest palace the British Royal Family ever built.
Escaping opportunities: Bewilder Box is the headline attraction here, but newcomers Pier Pressure have made a name for themselves too and are well worth including in any visit. Note that the two Bewilder Box games are in different locations, with a long walk between them!
Note also that Crawley is halfway between London and Brighton, with another of the UK's strongest escape companies – see below.
See full map and games list.

Crawley
Distance from London: It's an easy drive if you're in south London with a car, otherwise you may struggle. The London-Brighton train line stops at Three Bridges from where you can get a bus, but beware irregular schedules, particularly at weekends. Car is a much better option if possible – possibly even renting one from nearby Gatwick Airport if you're going to make a day of it.
Tourism: Crawley is a small town in the countryside outside Gatwick – if you want tourist attractions you'll need to drive to get to them. There's a nearby country park that might be interesting, I guess.
Escaping opportunities: The three Tulleys games are pretty much the only reason you'd travel out here. The venue is a highly regarded scare attraction operator; their skillset and location means big, lavish games and it turns out they're very good at puzzle design too.
If you're travelling to Crawley anyhow, you might as well continue on to Brighton…
See full map and games list.

Gravesend
Distance from London: 20 mins from St. Pancras via high-speed train, ~75 mins by car.
Tourism: There's a statue of Pocahontas, but not a whole lot else for visitors.
Escaping opportunities: Gravesend is on the escaping map for one company, the astonishingly prolific The Panic Room, who at time of writing have over a dozen games on offer in Gravesend alone. Pretty much all of them are reliably good, but there are some that I'd particularly recommend:
Also worth highlighting is Revolución Olé, which has a very novel structure to the gameplay. The big selling point for Gravesend though is that it's very quick to get to from London, and has a large number of quality games very close together, so ideal for an escaping binge. They even offer special packages for visiting enthusiasts.
(The Panic Room also have a branch in Harlow, Essex. The games there are also good but all the most special ones are in Gravesend.)
See full map and games list.

Margate
Distance from London: 90 mins from St. Pancras via high-speed train, ~2 hours by car.
Tourism: It's a traditional English seaside resort. The beach is decent by English standards – which is to say, too cold to swim except in the height of summer, when it'll be packed solid. The Shell Grotto is well worth a visit, and art lovers may be interested in the Turner Contemporary.
Escaping opportunities: Two companies with (so far) five games, all varying degrees of superb. I'd suggest playing all of them, but if you need to choose:
If you're eager to squeeze in more, there's another company close by in Ramsgate, and plenty more in Kent that might be on your route – particularly in Canterbury.
See full map and games list.

Nottingham & Derby (plus Leicester)
Distance from London: 2 hours by train to Nottingham, and an additional 30 mins on to Derby; up to 3 hours by car.
Tourism: Nottingham city centre has its share of attractively old buildings, but is mainly known to international tourists because of the Robin Hood association.
Escaping opportunities: These two Midlands towns have become known as an escape room quality hub. A large part of that is because of Escapologic, one of the U.K.'s best known and best respected escape companies, but there are some gems from the other dozen companies in the area, too. Top of my recommendation list would be:
If you want more, Leicester is on the train route between London and Nottingham and has Escapologic's second branch with their three newest games, all of which I'd highly recommend; and there are plenty of other companies in the surrounding region to boot.
The journey to Nottingham takes a big bite out of the schedule for a day trip, and with the best games split between Nottingham, Derby and Leicester, this area is better for a slightly longer visit – stay a night and make the most of it.
See full map and games list for Nottingham, Derby, Leicester.

Reading
Distance from London: 25 mins by train from London Paddington, double that by car.
Tourism: Nothing exceptional.
Escaping opportunities: Reading is another city where it's hard to find a bad game. The centre has three companies, all of which are worth considering:
Reading is 30-40 mins away from Guildford, and Guildford Escape Rooms is another strong venue with two games well worth playing, especially Venus. Reading is also on the train line between London and Swindon, so combines well with a trip there too.
See full map and games list.

Salisbury / Winchester
Distance from London: Each is about an hour from London Waterloo by train, or closer to 2 hours by car. Both are convenient to reach from Southampton, though surprisingly inconvenient to travel from one to the other.
Tourism: Both towns have notable cathedrals and the kind of historic town centres that people visit even if they're not obsessed with escape rooms. Salisbury is also a convenient place to catch a tour bus to Stonehenge.
Escaping opportunities: With only a couple of games in each, the main reason to consider heading to Salisbury or Winchester is because you want to combine one or two good games with some non-escaping tourism; or as part of a longer trip by car – such as one to Bournemouth and/or Swindon.
In Salisbury you shouldn't miss SPECTRE by Live Escape Salisbury; and I'd recommend doing Salisbury Escape Rooms' Wessex Cold Case Unit too while you're there.
Winchester has ClueCapers, whose delightfully idiosyncratic Mission to Winchintzy was particularly charming; the puzzle style in all their games is both original and challenging.
See full map and games list for Winchester, Salisbury.

Southampton
Distance from London: 90 mins by train from London Waterloo, a little longer by car.
Tourism: There's little that's high-profile, though the nearby New Forest region has plenty of non-escaping attractions.
Escaping opportunities: While the games in Southampton don't make it into my 'UK top ten' shortlist, you can play almost a dozen games all of reliably excellent quality. My personal favourite is Houdini's Escape The Titanic, but it's a safe bet playing anything from Exciting Escapes, Houdini Escape, Other World Escapes or Elusion Rooms, and which of their games you'll like comes down to individual preference more than different in quality. In brief:
Be warned that the above four venues are far enough from each other that walking between them may not be an option.
See full map and games list.

Swindon
Distance from London: 1 hour from London Paddington by train, twice that by car.
Tourism: Swindon is not a city with tourist appeal, but it combines well with a trip to Bath.
Escaping opportunities: This town is on the escaping map because of Professor Dunstan and the Search for the Ancient Statuette by Co-decode, an exquisitely elegant game widely agreed to be among the best in the country. Co-decode now have a second game, Sub-terra.
That's the main attraction, but I've also seen praise for Agenda 21 by Incarcerated (which I haven't yet played, but which by reputation is considerably stronger than that company's earlier games).
Swindon was hard to recommend as a day trip for players only interested in Professor Dunstan, but makes more sense now there are two Co-decode games; and you can top those up with some of the excellent games in Reading, since the train to Swindon stops there anyhow.
See full map and games list.
But what about…
Tourist favourites Oxford, Cambridge, Bath, and York all have games available but for escaping you're better off heading to any of the above destinations – although if you're in the area, Cambridge Escape Rooms has a copy of the Heaven And Hell room many enthusiasts know and recommend from Budapest.