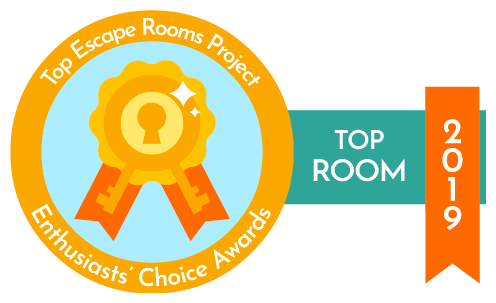 by The Paradox Project (website)
Charokopou 93, Athina 176 76
4-7 players
Μετά τα γεγονότα στην Έπαυλη… Φεύγοντας, ξεχάσατε κάτι. Οι συνέπειες, αμείλικτες, είναι στο κατόπι σας. Καιροφυλακτούν πίσω απ' την πλάτη σας, αθέατες, κρυμμένες στις σκιές που εσείς οι ίδιοι δημιουργήσατε στο πέρασμά σας. Οι μάσκες έπεσαν. Οι κανόνες άλλαξαν. Η κρίσιμη ώρα έφτασε.Τώρα που ανακάλυψες την Πικρή Αλήθεια… Μπορείς να ζήσεις με αυτήν;
show full description
Overall rating

based on ratings from 4 users
combined with 5 pro reviews
Player reviews
cipherdelic
expert
rated this:

Anonymous rated this:

James Bloodworth
expert
says:
If you enjoyed the first Paradox Project game then this is more of the same but better! Less space is used in some amazingly creative ways, some great transitions and a stronger sense of the unfolding story. This fixes all of the criticisms I had of the first one but I would urge caution taking a large group, I would recommend 3-4 to get the most enjoyment out, very much worth your time.

Anonymous says:
Wow this game is simply epic in scale, but not only that it is also of a fantastically high quality.
To give an idea of the scale - they give you 200 minutes, yes 3 hours & 20 minutes!! It can best be described as 6 different rooms that you have to work your way through, and each of them is about the size of a normal British room, with nearly as much to do in each one as well. It is such a long game that they even build in a break half way through and they provide drinks and cookies to revive you.

The only thing which came close in UK was Lance of Longinus at Time Run, with its multiple rooms, but this is much bigger still, as it should be for something lasting 3 times as long.
One of the strengths of this game I felt was the distinct lack of padlocks. A large proportion of the game was solved through physically doing something - and amazingly they all worked, and only one of them was a bit slow to recognise our correct answer. To have such a variety of puzzles is truly incredible and this game will live a very long time in the memory.
Equally memorable was the way you get from one space to the next, I wont spoil the surprise but prepare to be amazed!
Our host spoke great English and the game is fully compatible for English speakers. The only slight downside is you have to get a bus or taxi from the centre for 10 minutes to get there.
If you are Athens I highly recommend you find the time to play this game.


Reviews by escape room review sites
I've been eager to play Paradox Project's original three-hour game ever since I heard about it. I'm now heartily glad I didn't play it sooner - because if I had, I'd have missed out on the chance to also play its 200 minute sequel. The first is an excellent experience that you shouldn't miss; the second is an outstanding achievement that surpasses it in every way and then some, and entirely justifies booking yourself a trip to Greece right away.
I had to persuade the owner to let us attempt it,...
See also
Login