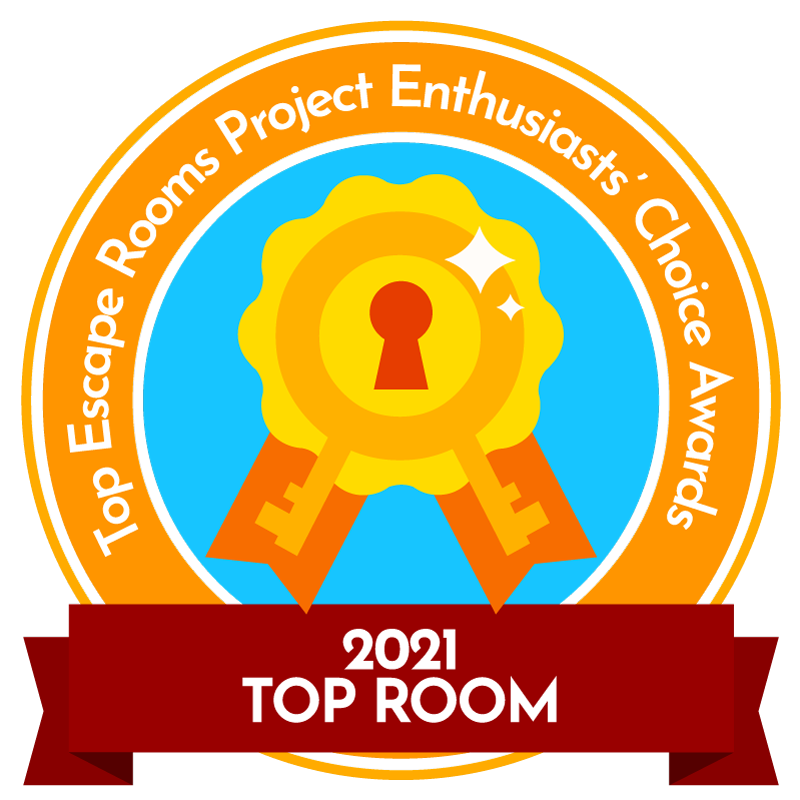 4-8 players
Languages: EN, DE
60 minutes
Our series "Ghost Hunter Ernie Hudson" is the first mix of escape game and radio play. Over five different locations, a drama with breathtaking effects, and a story full of excitement beckons. Be enchanted, enter the old villa of the frightened Mrs. Bunbury – and set out in search of the wailing woman. The story is also told using radio play elements. Voted 1st Top Escape Room 2018! Note: Both Ernie Hudson rooms can be played independently of each other and do not require any prior knowledge.
show full description
Overall rating

based on ratings from 6 users
combined with 6 pro reviews
Your review
Player reviews
jepzi
rated this:

Played:
20 May 2022
Team size:
5
Time taken:
47
Outcome:
Successful escape!
immersive
story-driven
great hosting
😨

creepy
Christoph
experienced
rated this:

Simon (The Overthinkers)
expert
rated this:

Played:
23 Aug 2019
Team size:
2
Time taken:
40:00
Outcome:
Successful escape!
original
immersive
story-driven
evan
experienced
rated this:

Played:
20 Oct 2019
Team size:
7
Outcome:
Successful escape!
immersive
story-driven
epic
quite easy
Out of this world good set design and production, and a few absolutely brilliant moments of trickery by the GM.
Lise Mortier
expert
rated this:

Played:
2019
Team size:
5
Outcome:
Successful escape!
This room had elements of game that we've never seen before. A lot of different areas and surprises along the way. We were a bit anxious at the beginning as the first puzzle is a dexterity puzzle that only involved two players so we were a bit concerned to be stuck there for too long but once that puzzle was solved, the game allowed all players to contribute to the game, even when we were all watching something happening, we never felt left out or not involved. The way the game is designed makes you always feel included and you do follow the story told by Ernie Hudson very smoothly. So many great surprises along the way as well, a treat! A couple of things seemed a bit out of theme but could be explained with a stretch. The flow of the puzzles were misleading at times, as the same element was used twice which is unusual and, even though it would make sense, it tricked us and surprised us. We also received a paper asking us to call Ernie Hudson on the phone as soon as we can. The phone was there, we tried to call several times, but no ringtone could be heard and noone ever answered, which seemed (or at least was perceived) like a bug. The final is also very inclusive as all the members of our crew were present to admire the escape. We had an absolute blast. We had a lot of questions after our game but unfortunately we didn't get the time to debrief with the game master as a group was waiting to play that same room and chaos was present in the area as Skurrilum was taken hostage of a fetish party. Haha. Thoroughly enjoyed it and highly recommend!
🌵
Juliette B
expert
rated this:

Played:
08/10/2020
Team size:
2
Outcome:
Successful escape!
Fantastic, immersive game from start to finish with some great touches and an engaged GM. Worthy of all its previous accolades.
Reviews by escape room review sites
Home to the two best games I've played – the Ernie Hudson mysteries. They're the real deal: immersion, exploration, theatre, puzzles, decoration, audio, flow and narrative. In every way I can image, they deliver. And the other games aren't bad either. If you're ever in Hamburg go and play these games. And if you ever have the chance to go to Hamburg, seize it!
See also
Login