by Escape Game Adventure (website)
£8.00 $9.99
Your mission: Locate and destroy the virus and then escape from the scientific compound before the spatial-temporal portal closes forever! With the help of Dooz, your faithful robot, you have been teleported to the year 2394! In this era, a mad scientist plans to paralyze the entire world using a powerful cyber virus... In a few moments, it will be too late! Choose to solve this challenge on your own or with a friend! Either way, let's go!
show full description
Overall rating

based on ratings from 2 users
combined with 2 pro reviews
Your review
Player reviews
Anonymous rated this:
Played:
28 Nov 2021
Team size:
1
Time taken:
0:45
Anonymous rated this:

These books were designed for kids and families and for that audience, it hit the mark well. I played with two of my great-niblings, ages 10 and 12, and they loved them both and would have played more if there were more. For an enthusiast, they'd be pretty easy and may not be as interesting.
Reviews by escape room review sites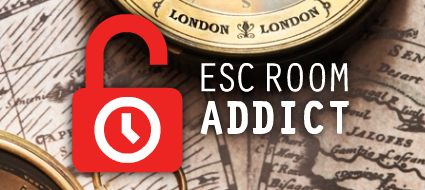 8.0 / 10.0
The Mad Hacker is the first puzzle book in the Escape Game Adventure series by Melanie Vives & Remi Prieur (illustrated by El Gunto). Come see what our ERA kids had to say in our very first review by kids… for kids!
See also
Login